The best solar production is in full sun. Panel mismatch, soiling (dirt), temperature differentials and shade on the panels all reduce energy production..
Panel Mismatch - not all panels in an array (string) produce the same output. The manufacturer of the panels will match the output of panels and group them according to their specifications. The best modules are matched at 3% and the worse 20%. A typical PV manufacturer is within 6%. As a group of panels age the mismatch could increase.
Clean your panels! This is the easiest thing to control and will increase your energy production. Soiling of panels can decrease output between 0% and 5%. A good rule of thumb is to clean your panels at least once a year. Tigo has a firefighter safety button that disables the the entire array down to the module level. A great safety feature if you want to safely wash you panels with a garden hose.
Heat reduces the panels output. Panels that are roof flush mounted experience lower output and the center panels of larger arrays experience higher temperatures.
Shade is the biggest problem a PV Solar System can experience. Shade on a few panels will greatly reduce the system's output and could shut the production down completely.
SunOneness recommends Tigo Module Maximizers to get the most out of your system's energy harvest. Tigo manages energy production variance at the panel level and balances the PV system (BOS). Real-time data montitoring is caputred and stored for a historical production record for reference. A fastward playback can show the production from sunrise to sunset in a breif period of time for review. Data collection can be done at the panel level. Added tools can measure the solar irradiance and panel temperatures. TIgo can instantly pin point any problems and send an email alert to the installer or owner as to the issue.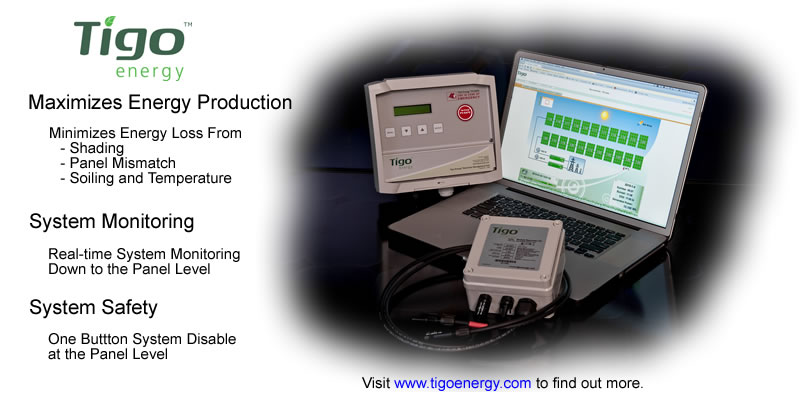 If you have shade issues, designing a system using Tigo Module Maximizers will increase production in a single inverter design.
Contact SunOneness Solar if you have further questions.